Varieties of Sweet Pea
The Latin name for Sweet Peas is Lathyrus odoratus. Some of the old fashioned Sweet Peas are still cultivated today by specialist nurseries. There are several types of Sweet Pea cultivated in gardens today, but by far the most popular variety is the climbing Sweet Pea, which is described in detail in the following pages.
Choosing A Variety of Climbing Sweet Pea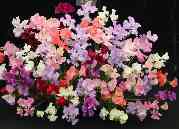 Sweet Pea 'Spencer Mixed'

All Sweet Peas are easy to cultivate, and all can be grown in exactly the same manner. Some are more fragrant than others and the colouring differs immensely. It is therefore for you to choose a variety which appeals to you. Click below for pictures of a variety of Sweet Peas. New varieties are being constantly introduced.

Click here for Sweet Pea Pictures
CLICK HERE FOR NEXT SWEET PEA PAGE
CLICK HERE FOR PREVIOUS SWEET PEA PAGE