How to Grow Sweet Peas
History of the Sweet Pea Flower
The first Sweet Pea (Latin name Lathyrus odoratus) flower variety appeared in Britain in 1730, sent by an Italian monk Fransiscus Cupani. It was a small-flowered wild variety which bore little resemblance to the Sweet Peas of today.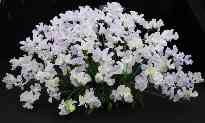 Sweet Pea 'Dawn'

In the very early 1900s, Henry Eckford selected and crossed many Sweet Peas, laying down the foundation of the popularity enjoyed by the Sweet Pea today. From his work came varieties such as 'Dorothy Eckford' (pink), 'Lady Grisel Hamilton' (lavender) and 'King Edward' (scarlet) - the grandifloras.
The first frilled or waved varieties were raised by Mr. Silas Cole, gardener to Countess Spencer. These were known as the Spencer varieties. 'Countess Spencer', a pink variety, was the first of this type to be exhibited in 1901.
At the same time, Mr. W. J. Unwin produced 'Gladys Unwin' (pink). It is from these two types that the modern Sweet Pea has been derived. Varieties now run into the hundreds - scented, a wonderful range of colour (more recently multi-coloured), trailing and climbing, miniature and full size.
When To Start Sowing Sweet Peas
Sweet Peas were traditionally sown during mid autumn / fall, for flowering the next summer. In recent years the custom of Spring sowing Sweet Peas has become more common. Whilst spring sowing may be a little less time-consuming, there is no doubt that a October sowing produces earlier and stronger plants and flowers. Our advice is to sow in autumn / fall in milder areas and sow in spring in cooler areas
This article will lead you through the sowing process for both methods and will show you how to care for your sweet peas. We also have a section on different varieties of sweet pea with pictures galore.
CLICK HERE FOR NEXT SWEET PEA PAGE