Level A Site For A New Lawn
You will need the following tools to level a site:
A spade to move soil around, possibly a fork as well.
A rake to level the soil.
Nine 2.5cm (1 inch) square wooden pegs (see below)
A straight edged wooden board about 2.2 metres (7 feet) long
A spirit level

A minimum of 9 pegs are required. Each is marked with a painted line 10cm (4 inches) from the top of the peg (see picture on left).

One spirit level is required, ideally about 30 cm (1 foot) long.

One straight edged board is required about 2.2 metres (7 feet) long.
Where levelling is required to a depth of more than 5cm (2ins), remove the top soil from the area to be levelled and store it temporarily elsewhere in the garden.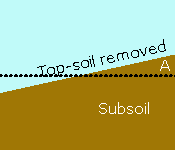 With the top soil removed, roughly estimate which areas are peaks and which are troughs. Gradually move the peaks of soil into the troughs using a spade. When this is done, and the level is roughly correct, replace the top-soil. Allow the soil to settle for a week or so.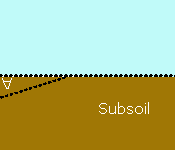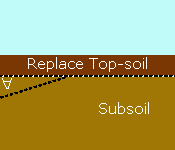 Finally, to ensure the surface is as level as possible, use the pegs, board and spirit level over areas of 4 metres (12 foot) square as shown in the diagram below. Add or remove soil from between the pegs until the soil surface is level with the painted line on each peg. Placing the spirit level on top of the board will ensure that that the top of the pegs is level.