Astilbes are moisture-loving herbaceous perennials, native to North America and grow from 50cm to more than a metre in height.
Their tapering heads of white, red or shades of pink minute flowers in summer are followed by seed heads which can be cut for indoor decoration or left out over winter. The flowers can be cut for indoor decoration. Their leaves are rich green and deeply cut and often bronzed when young.
They look best planted either as a single species or in mixed groups.  One of their best features is that they are an excellent plant for moist soil conditions and partial shade, doing well in bog gardens.  They are often planted as a contrast with hostas and thrive in wet conditions. Not surprisingly, they are popular plants. Astilbe arendsii varieties grow to more than 60 cm with 45 cm flower heads, 'Dusseldorf' has cerise-pink blooms, 'Fanal' has deep crimson blooms and reddish leaves and 'Irrlicht' has white.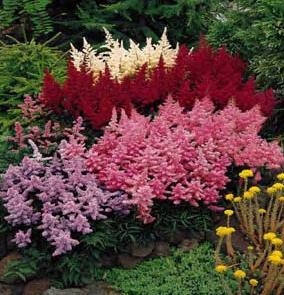 Astilbe planted in groups

Care

Astilbes prefer a rich, moist soil, needing more moisture when in full sun.  They need no dead-heading or support and can be cut back in autumn, to appear again in spring.  Mulch if soil conditions are dry. After several years, the plants can be rejuvenated by dividing the roots in autumn or early spring.

Propagation

Usually by division and also, by seed

Pests and diseases

Practically none.

ASTILBE AT A GLANCE
Latin name
Astilbe sp.
Type
Hardy herbaceous perennial
Growing conditions
Prefers partial shade and moist soils
Propagation

Division and seed