At over 300 pages long this book covers all that the aspiring vegetable, fruit & herb gardener would want to know.
The thrust of the book is to help you grow your crops well and enjoy them. Alan has based the book on his top gardening tip which is "you'd do far better to grow half the amount but grow it twice as well". This typifies the sound advice that runs throughout this book.
But even Alan is not perfect, so we applied our "standard" vegetable book review test and examined the section on growing asparagus in some detail. Asparagus is not hard to grow but it has some peculiarities which should be made clear in a gardening book. The book explains clearly how to plant asparagus crowns, which is to make a wide hole and spread the roots out well.
It also stresses that asparagus should not be harvested in the first couple of years and clearly explains how to harvest after that. Our only small criticism is that no mention was made of growing asparagus from seed, a much cheaper option compared to buying the asparagus crowns from a garden centre.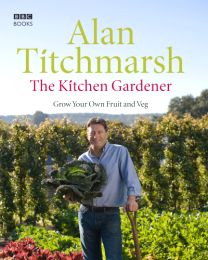 But growing asparagus from seed is a lengthy process and possibly it was thought not an option that many gardeners would choose.
The Kitchen Gardener was published in 2008 so it is up to date. We were impressed with 'recommended varieties' section for each herb, fruit and vegetable. The varieties were freely available from the internet and garden centres. Being a modern book, good use was made of high quality photography. There are over 250 pictures and diagrams which illustrate the book well but do not over-power the content.
The coverage of the book is comprehensive with a section covering every imaginable fruit vegetable and herb. Even the lesser known were covered such as the asparagus pea. So if you are looking for a book which will give you new ideas, this one definitely fits the bill.
Each section covers how to plant and grow the crop, which varieties are recommended, when and how to harvest and any problems you may encounter with specific pests being mentioned. At the front of each section is a small calendar summary of key dates for the crop. All of this very clear, logical and easy to read. Alan's sense of humour is pleasantly apparent throughout the book as well.
One comment we would make about the individual calendars and the excellent overall calendar is that the dates are average ones. No mention is made of the fact that many action dates for say the Bournemouth area would be six to eight weeks different to some cooler areas in the North of the UK.
If you are a budding kitchen gardener then as well as growing fruit, vegetables and herbs, eating them is of great interest as well! Although this book is not a recipe book, many of the crop descriptions are accompanied by a recipe for that crop.
SUMMARY
At over 300 pages long this book is suitable for both the amateur and experienced kitchen gardener. The coverage is commendably comprehensive, the book is well presented and very readable. It has our full recommendation.
Published By: BBC Books
First Published: 2008
Author: Alan Titchmarsh
Title: The Kitchen Gardener
ISBN: 978 1846072017
Price: Recommended price �20.00 but available via the BBC bookshop (online) at �13.99
COMMENTS
If you have any comments about this independent review of The Kitchen Gardener or wish to have a gardening book reviewed, then send an email to us by clicking the link below: