Andi Clevely has written some good gardening books in his time and they reflect his long term interest in gardening.
The Allotment Book was first published in 2006 and has received good reviews from many reviewers. So when we started to review this book we were confident that it would live up to Andi's past high standards.
Unfortunately we were disappointed with some aspects of the book. Read on for details of why.
Imagine yourself in W H Smith, Waterstone or similar and you are looking for a present for a friend who has recently started an allotment or who plans to do so. Maybe you are looking for a book on allotments for yourself. You see The Allotment Book and flip through the pages. It looks impressive, very impressive. In fact, thirty seven pages out of the total 224 pages are 100% covered in pictures. That's over 16% of the pages, totally devoted to pictures.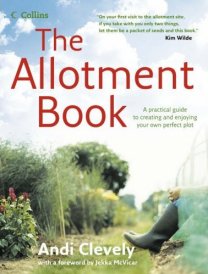 Of the remaining 187 pages we roughly estimate that 25% is covered in smaller pictures. That leaves about 140 pages with information on them. The index occupies five of those pages, the acknowledgements page occupies one more page, four of those pages are occupied by recipes ........ Hmm! That lead to us examining the remaining pages of information in a little more detail.
We are not going to dissect each and every page in detail, rather we cite a couple of examples which typify the content of this book. I recently planted a small asparagus bed and was therefore drawn to this section of the book at first.
There's some good information in the book on asparagus, true. The most common way to start an asparagus is to buy one or two year old crowns rather than sow seed which is not nearly so reliable. When is the best time to plant (not sow the seed) asparagus crowns? You won't find it in The Allotment Book. How are asparagus crowns planted, not the normal way for sure? But you won't find this information in The allotment Book. Asparagus are normally grown from seed in a nursery bed and then transplanted the next spring. No information in The Allotment Book about that.
We examined further and found that the information given for many fruit, vegetables and herbs was lacking in important detail. For example, is it really possible to cover growing blackcurrants, white currants, blueberries and gooseberries under one heading and in less than half a page? The Allotment Book does just this.
SUMMARY
This book is a gold mine of professional garden photography and it may well inspire you to start an allotment. But it lacks important information about practical allotment subjects. Look elsewhere if you want comprehensive information for your allotment.
Published By: Collins
First Published: 2006
Author: Andi Clevely
Title: The Allotment Book
ISBN: 978-0-00-720759-6
Price: �12.99
COMMENTS
If you have any comments about this independent review of The Allotment Book or wish to have a gardening book reviewed, then send an email to us by clicking the link below: