This is an excellent book for the gardener short on space. It covers everything from planning how to get the most from a small area through to harvesting times. The full range of vegetables, fruit and herbs is covered all specially aimed at small gardens.
It's written in non-technical terms and is a pleasure to read.
Patio Produce was first published in 2009 and written by Paul Peacock who is editor of the Home Farmer Magazine.

Growing fruit, vegetables and herbs in pots, grow bags or hanging baskets requires different techniques from gardening in the open. This book explains how to feed your potted plants correctly and how to water them sufficiently. It's a great help to the "small time" gardener and the best book we have reviewed on this subject.
Although growing raspberries in a tub might not be the best use of space, if you like raspberries then this book will tell you how to do it. The information is all there, you choose the plants you want to grow.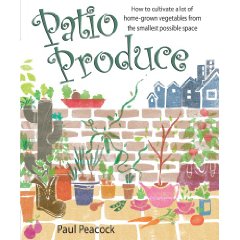 The book is a self contained mine of information for the amateur and experienced patio gardener. It contains solid information on how to deal with pests and disease, a year round calendar of activities and some unusual ideas on containers for plants. There is a fascinating section on how to use drainpipes as containers!

The emphasis is on "green" principles for growing plants but this is by no means thrust down your throat. John doesn't ignore difficult plants to grow on the patio either. Take rhubarb for example - he clearly explains how to grow it in a pot but does warn that watering will be much more difficult compared to growing on open land. He leaves the choice to you explaining the advantages and disadvantages.

SUMMARY
We thoroughly recommend this book for the amateur patio gardener and believe that even experienced gardeners will find it very useful.

Published By: Spring Hill
First Published: 2009
Author: Paul Peacock
Title: Patio Produce
ISBN: 978-1-905862-28-3
Price: �10.99
Number of Pages: 156
If you want buy this book then click here.

COMMENTS
If you have any comments about this independent book review of Patio Produce or wish to have a gardening book reviewed, then send an email to us by clicking the link below: