The Fuchsia Flower
One of the most widely cultivated plants in the world, growing fuchsias is easy if a few rules are followed. Garden 'experts' often sideline fuchsias in favour of rarer plants, but examination of a single fuchsia bloom shows them to be beautiful and exotic.
Fuchsias come in a huge kaleidoscope of colours and different forms to suit almost any situation. Grow them in baskets, as hedges, specimen plant, massed in a border or at the height of their elegance as a standard plant.
This article will lead you through the steps necessary to grow and care for a variety of healthy and beautiful fuchsias at very little cost.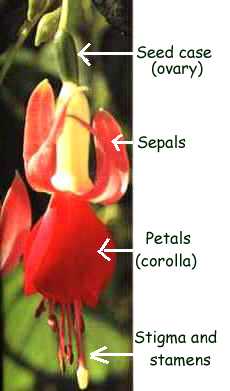 The Exotic Fuchsia Flower
Although they look very exotic, the fuchsia flower is no different in structure to other flowers. The flower is held by a thin stalk which swells out to form the seed case (ovary). The seed case develops into a tube formed by four sepals.
When the flower is only a bud, the sepals are closed. As the flower bursts open, the sepals part and curl upward. The flower itself (corolla) consists of many petals from which the stamens and stigma protrude.
The photo on the left is of 'Celia Smedley', which has the classic fuchsia flower shape - however the flowers come in all sorts of shapes, long, short, full or narrow.
The flower colours range from deepest purple to delicate shades of blue, from flaming red to the palest of pinks. There are now over 7,000 fuchsia varieties, each a jewel in its own right.
Use the Fuchsia Index at the top left of this page to select a particular subject concerned with fuchsias or simply click the "next page" at the bottom of this and every fuchsia page to proceed through our twelve pages on growing fuchsias.
If you want to buy Fuchsias online then we suggest you try Victoriana Nursery (see next paragraph about the 10% discount). They are our recommended suppliers of fuchsias. With over 650 varieties to choose from Victoriana are the largest growers of fuchsias in the South east of England - they even supply the Royal Family with fuchsias and these can be seen growing in Windsor.
We have negotiated a 10% for you on everything you buy online at Victoriana Nursery. Simply click here to go to their site and when your total is calculated at the online checkout you will see that they have automatically given you a 10% discount. No need to enter a voucher code, it's all automatic.
Name: jim@GardenAction
E-mail: webmaster@gardenaction.co.uk
Date posted: November 17, 2011 - 09:26 pm
Message: They do grow well in ideal conditions. You can repot to a larger container, you can plant in the garden after taking cuttings, or you can prune it back.
---
Name: Dean
E-mail: D.Johns6@comcast.net
Date posted: November 17, 2011 - 03:02 am
Message: I have a Fuchsia that is still in full flower and it is November 2011? It was hanging on my patio and it got so happy it not going dormant, and it is so huge it took 2 people to take it down to sit on the patio table. I'm sure it is root-bound and but I don't know if we should cut it back or just keep it sitting on the patio the rest of winter until spring. I don't know if I should wagon wheel it back to the edges of the pot, the poor thing will need fresh soil next year after this growing season. I'm sure the reason it grew into a monster is because we live near the Beach in Anacortes, Washington all the fresh air and sun and lots of water.Please Advise!
Thank You Dean
---
Name: Terry Fowkes
E-mail: Private
Date posted: October 01, 2011 - 09:25 am
Message: When is the best time to prune Fuschias?
---
Name: Mike Paphitis
E-mail: mikepaphitis@gmail.com
Date posted: September 26, 2011 - 10:39 am
Message: what is the fruit, which is now growing on my fuchsia plants? They have stopped flowering now and these berry type fruits are growing now.
---
Name: liz
E-mail: Private
Date posted: September 02, 2011 - 05:08 pm
Message: to caroline (june 21st. Have patience. Bet they're good now.! Just feed and water them.
---
Name: Paul Bennett
E-mail: Private
Date posted: August 15, 2011 - 12:19 pm
Message: I grow fushias which i have done for over 40 Years of and on, I think they are a magnificent group of plants,and was looking up this web page to see if three are other veariets and colours that i have not got also looking for more information on how to grow from seeds, and not cuttings, and how to deal with the seed pods on the plants with regards to growing? Thanks any advise Paul Bennett
---
Name: Nova Washington
E-mail: novagains@yahoo.com
Date posted: June 26, 2011 - 12:36 pm
Message: i had a fuchsia plant that i loved dearly... i watered it when needed and gave it all the TLC i could give it but unfortuntly it died but im holding on the remainds hopping it'll come back to live... so is there HOPE????
---
Name: caroline
E-mail: Private
Date posted: June 21, 2011 - 03:11 am
Message: hi, i planted six hardy fushias last summer and five of them survived the winter. i prunned them in march and they have just started to flower. however they are not very big maybe not even as big as last year. can you give me any advice as to how i can make them bigger and stronger. any advice greatly appreciated. thankyou
---
Name: tammy
E-mail: t_valley@hotmail.com
Date posted: June 16, 2011 - 10:11 pm
Message: is there a way to take cuttings from fushia
---
Name: sandra wynter
E-mail: velcalder@hotmail.com
Date posted: May 09, 2011 - 03:03 pm
Message: my daughter gave me Fuchsia for mother's day, i lives in a tropical climate,i would like to know how to care for this beautiful plant i have never seen before thank you
---
Name: beth
E-mail: Private
Date posted: January 18, 2011 - 11:52 am
Message: my fuchsias have suffered severly from the frost this year.. I have had them for a number of years but the leaves are dead and drooping. What can I do leave them alone or cut them down
---
Name: Tom
E-mail: thomas.kavanagh@hotmail.co.uk
Date posted: October 14, 2010 - 05:34 am
Message: how can I care for my fuchsias over the winter months
---
Name: vera shed
E-mail: Private
Date posted: October 04, 2010 - 02:36 pm
Message: Can you grow them in the house in winter mouths. thanks vera
---
Name: anu
E-mail: aunqurrat@gmail.com
Date posted: October 01, 2010 - 08:26 am
Message: wow!this flower is so beautiful,how can i plant it in pakistan?may you gueid me plz about it.Thank you.
---