Smiths Nurseries, New Denham
This is a totally independent GardenAction opinion of Smiths Nurseries in the New Denham area. Click any picture to enlarge it.
PLANTS
The outside plants area is spacious and pleasantly laid out. There are lots of islands and centre pieces to provide interest and encourage you to wander round.
Smiths Nurseries are really a medium sized garden centre and the plants area would benefit from some overhead signs. But there were none and we found it very difficult to locate specific plants.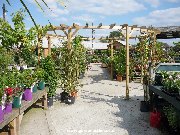 There was an excellent range of the common garden plants at Smiths Nurseries and they were in good condition. Many of the plants are grown on site and you can browse the greenhouses they are grown in.
They definitely specialise in specimen plants, lots of them very large. If you want a focal plant for your garden then this is definitely the place to visit in the Denham area.
Indoor Sales Area

CAR PARKING
The car parking was fine, with lots of room and a flat surface.
DIRECTIONS AND CONTACT
The address is:
Smith's Nurseries,
95 Oxford Road,
New Denham,
Middlesex,
UB9 4DE
A map can be found HERE

Tel: 01895 233844
Email: not available
Website: http://www.smiths-nurseries.co.uk
CAFE
Smiths Nurseries have their own cafe but we didn't get a chance to test it out. Why not leave your opinion of the cafe below in the Comments Box.
SUMMARY
Smiths Nurseries in New Denham has great quality plants and a good selection of them. The indoor sales area will supply most of your gardening needs as well. Recommended by us.