Piscopo Garden Centre, Burmarrad,
Malta
This is a totally independent GardenAction opinion of the Piscopo Garden Centre, Burmarrad in Malta. Click any picture to enlarge it.
PLANTS
The outdoor plant area is basic, with the majority of the plants being displayed directly on the ground. Many of the seasonal and bedding plants however were more attractively displayed on tables.
Signs were totally lacking but the smallish size of the garden centre (similar to a small / medium UK garden centre) made finding plants easy.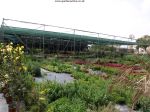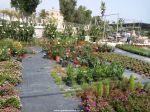 Click any of the pictures in the article to enlarge them. Some of the area was under cover. Probably not, as in the UK, to provide cover from the rain! Much more likely it is used to provide cover from the baking mid day sun. The paths were variable but mostly flat. They were not suitable for wheelchair use in many areas.
As far as the range of plants is concerned, it was varied and interesting. As well as some exotic heat loving plants, many of the plants commonly on sale in the UK were also available. This came as a surprise to us. The plants looked to be in excellent condition and very well watered.
Pictures tell a thousand words so see a selection of pictures below which show some of the plants for sale.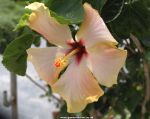 The two most common plants found growing in parks, gardens and roadsides are the Washingtonia and the Nerium. For an idea of the flora and fauna in Malta, click here.

INDOOR AREA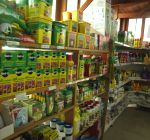 The indoor sales area was basic but provided everything the average gardener would need. We were again surprised to find many UK products such as Miracle Gro, Tomorite and similar. The UK gardener would not find this Malta garden centre difficult to navigate.

The indoor aisles were narrow in some areas and not suitable for wheelchair access.

PRICES
With the Euro / Pound fluctuating wildly we have not provided specific prices. However a browse round the shelves showed the prices in this Maltese garden centre to be similar to those in the UK.

DIRECTIONS AND CONTACT
The address is:
Piscopo Gardens Limited
Burmarrad Road
Burmarrad
Malta

OPENING TIMES
Monday to Friday: 9.00 to 6.00
Saturday; 9.00 to 4.30
Sundays and Public Holidays: 9.00 to 6.00

Tel: +356 21583755
Email: info@piscopogardens.com
Website: http://www.piscopogardens.com

SUMMARY
We can only compare the Piscopo garden centre in Malta against UK garden centres which is rather unfair. But it certainly supplies everything a gardener would need. The plants looked healthy and most importantly well watered. The staff were extremely helpful and spoke English as well as Maltese.

If you are in Malta, we would thoroughly recommend a visit to the Piscopo garden centre, if only for novelty value.

COMMENTS
If you have any comments about this review or wish to have a garden centre reviewed then send an email to us by clicking the link below: