Sweet corn will only grow from seed at soil temperatures above 10C (50F), but they stand their best chance at over 16C (60F). There are three principal methods for sowing sweet corn, the first two having the best chance of success.
Method 1. Sow the seeds indoors or in a heated greenhouse, mid-April is the best time. Sow two seeds per 7cm (3inch) peat pot in standard potting compost. Peat pots are better than plastic pots because they can be planted directly into their final positions without disturbing the roots - sweet corn hate root disturbance. When the seedlings emerge, remove the weakest in each pot. Plant in their final positions when all danger of frost has passed ( mid-May ). Remember to harden off the plants for a week before planting by placing them in a protected position (a cloche or poly-tunnel is best) outside. Click here to buy a poly-tunnel or cloche from GardenAction's preferred online supplier.
Method 2. The second method is to plant the seeds in their final positions under cloches or supported plastic sheeting (poly tunnels). The cloches / poly tunnels should have been in position at the beginning of April to warm up the soil for planting the seeds in mid-May. Leave the cloches / plastic sheeting in place to protect the plants, removing it during mid-May. Click here to buy a poly-tunnel or cloche online from our recommended suppliers.
Method 3. Plant the seeds in their final positions without protection during mid-May. When planting directly outside, sow two seeds together (to allow for failure) about 3cm (1 inch) deep.
A final alternate method is to grow the sweet corn under fluorescent lights in the garage, they are ideally suited to this method for the first month - click here for more details.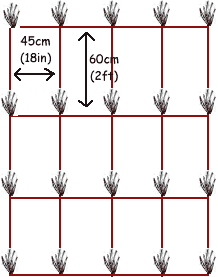 Sweet corn should be planted in blocks to assist in pollination, and reduce the amount of wind damage. See the diagram for measurements.
Sweet corn may seem a waste of time in small gardens, but they are ideal for under-cropping (growing other plants between them) because their foliage lets lots of light through. Examples of vegetables which will do well with sweet corn are dwarf French beans, radish, lettuce - in fact most small vegetables.
Caring For Sweet Corn
Sweet corn are very easy to look after once they have germinated successfully. They appreciate a good watering especially when they are in flower. They also appreciate being fed at fortnightly intervals with fertilisers designed for tomatoes (i.e. not too high in nitrogen, but high in potassium).
If the plants are at all exposed to wind, it helps greatly to pile up earth around the base of the stems - this will encourage more supporting roots to grow just below ground level.